Dear Reader,

If you've never heard of today's best gold investment, you're not alone.

That's because it's not your typical "high-flying" gold mining stock.

But while most gold investors are waiting for the next big boom in gold mining stocks, a small number of savvy individuals are buying this OTHER gold investment.

I'm talking about a unique gold investment that's made some savvy investors quite wealthy, independent of recessions, zero interest rate policy from Ben Bernanke, and even dips in gold prices.
Like Jan Henderson, who has avoided all other gold investments, but she still received a check worth over $1,459 last January as a result of this investment.

And Keith Mills, who got a check for more than $1,129 in August 2011, even though the DOW fell over 15% that month.

John Winthrop can barely stand to watch the news these days, but he doesn't mind watching his checking account go up over $2,902 every 90 days.

It's basically the only way we know of to make money in gold no matter what`s going on in the markets.

That's why I call this investment "Forever Gold." It's a way to CONSTANTLY profit from gold, even if it drops in price.

In this letter, I've included all of the details about how for the next few weeks, you can still collect ever-increasing dividend checks from this opportunity - and I show you how to get started with less than a $100 initial investment.

A Gold Investment You'll Never Want to Sell

Regular gold is a fine place to park some cash - to protect it from the likelihood of currency devaluation, but "Forever Gold" is a little different.

You buy it once... and almost immediately, you start reaping the rewards...

For instance:

In 2011, as regular gold prices fell 10% between August and November -- 63-year-old Arkansas retiree Kenny Taylor saw 69% gains on paper with his "Forever Gold" holdings.

But Kenny didn't sell - even to realize a near double in capital gains.

That's because Kenny also received over $2,392 in 2008 from "Forever Gold."

And he's not the only one...

Frank Matthews got a check from "Forever Gold" worth at least $2,000 early in 2011 - and again in January, he received another check - this time for over $2,500.

I have to emphasize:

These checks really aren't the best part of the story - not even close.

To be honest, I'm quite sure that while the checks you might receive from "Forever Gold" could be this large (or larger) -

it's more likely that you'll get MUCH wealthier, far faster in another way.

That's what I've been researching over the past several months. And what I found made me reconsider my entire gold investment strategy...

Get Paid - Just for Owning It

Let me show you how "Forever Gold" is way better than your typical gold investment.

If you own stock in gold miners, then you wait and hope as the company sees if the land they own actually produces gold.

Once they find the gold, your company then has to dig it out - often sorting through 100 tons of mud, rock and debris to process as little as 3 ounces of gold.

Then..
They have to grade it. Not all gold is pure gold. Sometimes it's alloyed with silver - sometimes it's mixed in with copper.

They have to transport it. Frequently through thick jungle in hostile territory.

Then they have to ship it to refiners - who take their own piece of the pie, along with the government of the country they're shipping out of AND the government they're shipping into.

Of course, you can make great money if a gold miner hits it big - and any serious gold investor should have some in their portfolio...

But if you own "Forever Gold," you don't worry about hostile governments or tricky mining terrain. You don't grade anything.

And more importantly, you don't pass any of the profits on to anyone else.

You simply collect payments from your holdings - regularly, no matter what.

How regularly? Every 90 days.

Let me show you what I'm talking about.

A Golden Dividend Company

In Denver, Colorado, in an 8-floor office building, a small firm on the first floor does nothing but take shipment of "Forever Gold."


They don't own any mines.

They don't own any drilling equipment, ore processing facilities or refineries either.

They don't spend a single dime on exploration, drilling, or special mineral licenses. They've never had to bribe a local politician or muscle a landowner out of their property.

The only thing they do is collect "Forever Gold" from mining companies - that's it. That's all they can do - they only have about a dozen employees!

That's all they've been doing for the past 31 years - and they've done it successfully every year since they started.

In that time, they've passed on over $161 million directly to their shareholders in the form of dividends.
Like Mr. Joe Langfeldt, who collected over $1,599 every 90 days since 2007...

Or Mike McLimans, who just received an astounding $2,038 this past January...

And Roberta Karan, who's expecting a check worth at least $1,007...

But how does "Forever Gold" pay these people dividends - and what is their business exactly?

I've been researching this company for the past 18 months, and I can assure you, it's like no other business you've ever heard of...

Multiplying the Profitability
of Regular Gold Investments

We call it "Forever Gold" because over the past 25 years, this investment was at least twice as profitable as any other gold-related vehicle we know of.

And as I said, the checks are just a small part of it...

Because the real story behind "Forever Gold" is the impressive gains in stock price it posted over the past 25 years...

If you look at these two charts transposed, it's easy to see that while the uptrend in both charts is similar, the "Forever Gold" chart is a multiple of the first...

For instance, if you put $1,000 into gold back in 1992, you'd be sitting on over $5,000 today...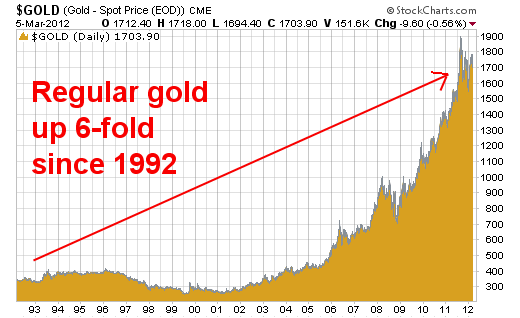 Not bad, but if you put that same $1,000 into this "Forever Gold" company in Denver on the same day, your holdings would be worth over $2.26 million!

Or to put it in perspective: every $1 turned into $2,260...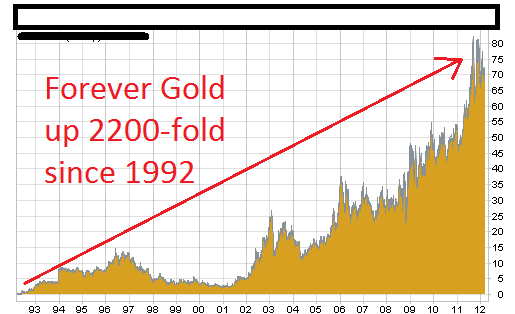 Of course, we believe that both regular gold and "Forever Gold" are going much higher...

And we'd never suggest forgoing the security and reliability of owning physical gold, but in the meantime, while we wait for gold to hit its inevitable meteoric high, why not collect a quarterly check from a unique business likely to MULTIPLY gains of the yellow metal?

But how is it possible that a small company in Colorado has amassed such substantial gains?

Taking Advantage of a Huge Problem
in the Mining Industry

31 years ago - immediately following the gold mania of the early 1980s, after gold prices fell, miners, explorers, and refiners needed new capital to continue operations.

But with gold prices as low as they were, no one would lend them a cent.

So this "Forever Gold" company came in and offered to lend them money in exchange for a percentage of any gold that they mine, find, or refine.

9 years ago, when gold prices started moving upwards again, this "Forever Gold" company had so much money coming in that they began giving it to their shareholders.

Since then, they've raised their payments almost 300% -- and they're still rising. In that same period, regular gold only went up 5-times in price...

Basically, this company gets paid no matter what happens to gold prices - and they pass on their profits to their shareholders.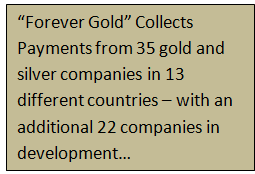 And when gold goes up in price - they get paid more.

How? Well, with most of the companies they receive royalties from, there's a sliding scale for how much they receive.

The scale is between 0% and 5% for most companies in their stable.

However, one of their "kickers" is that they can receive up to 15% if gold hits a certain price.

And right now, with gold around $1700, they're perfectly hedged to skyrocket during the inevitable upsurge in gold prices...

From here on out, every $50 increase in the price of gold boosts their annual revenue $1.2 million...

Then they pass on 12.5% of those revenues to shareholders.

Simply put, they positioned themselves at the lowest possible gold price, and now they're making a fortune.

They have extremely low fixed costs. They don't have to worry about rises in the price of energy, wages, or taxes - because they get paid according to the price of gold.

How can you take part? Easy - their next payday is coming up soon.

That's when they'll send out over $8 million to their shareholders.

That money comes directly from gold companies across the world. Even if half the companies in their stable go under, they still get paid. Even if the U.S. government starts seizing gold holdings (like it did between 1933 and 1975) - they still get paid.

So how you can you make sure you'll get paid?

Here's what to do...

How to Collect Income
from "Forever Gold

There's only one thing you need to do today in order to guarantee you'll see the biggest upside in gold appreciation.

And at the same time, you can collect a regular dividend (every 90 days!).

It's surprisingly easy to get started.

I've just published a report on exactly what to do. This report was recently posted to my website.

In this report, I tell you about the one investment you need to make today to profit from "Forever Gold."

Anyone can buy this investment through a regular brokerage account. (But very few people will, at least for now.)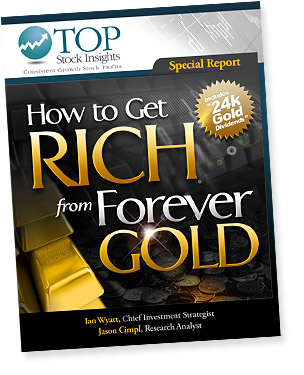 And I'd like to give you this report immediately, for free - so that you can read it over for yourself to verify what I'm talking about.

It's called, "How to Get Rich from Forever Gold" - and it includes all the information you need about "Forever Gold."

As I said before, the next "Forever Gold" payout date is quickly approaching.

You can grab this report on my website - which I'll tell you how to access in a minute.

But first I feel obligated to reveal something about who I am - and what I do...

What you need to know about me

#1 - I can't be any more sincere when I say I like gold. I own it, and I plan to own it for the foreseeable future.

#2 - While I do own gold, I don't have any aspirations whatsoever of getting rich from owning it. I will sell my gold some day - and probably for a substantial profit - but nowhere near close enough to "get rich" from the gains.

And while I will always like gold for the above reasons and more... The reason I like "Forever Gold" is because it continually raises its dividend - that's the true path to wealth: when your investments flood you with a constant uptick in income.

So that's the real reason to own this investment: a constant "raise" every year in the form of actual income.

As I said, I'd like to send my report "How to Get Rich From Forever Gold" for free.

But who am I? And why should you believe me?

I'm Ian Wyatt, Chief Investment Strategist with the highly successful investment advisory service Top Stock Insights. Two years ago, my readers and I were heading out of one of the most uncertain times in stock market history. But unlike most investors, we were making money.

Even before the ultimate lows were reached, my readers were making money. 25% and 10% in February 2009 and another 11% profit in March, when panic gripped investors and everyone else was posting losses. And as the market started to rally, the gains came fast and furious - 26%, 34%, 35%, 37%, 38%, 51%, 63%...

Top Stock Insights readers made money in all of 2009's best and lowest risk sectors, like oil, technology, commodities, emerging markets, gold and biotech.

No doubt, 2010 was more difficult for investors. That's because the stock market had already made the easy move from historic lows. The "low hanging fruit" has been picked. And it's not just in the stock market. The easy gains for home values, banks, car-makers and retailers have also been made.

But here's just a sample of the trends we identified and the gains we've made recently:
Health care reform has driven patients and providers alike into generic drugs like never before. Top Stock Insights subscribers hitched a ride with Teva Pharmaceuticals (Nasdaq:TEVA) for a 17% gain...

And we played health care even more with Celgene (Nasdaq:CELG) for a nice 33% run...

Telecom has rewarded Top Stock Insights readers with a 25% gain on Verizon (NYSE:VZ) plus a solid dividend of over 5% annually.

And yet many of the same questions remain:
Has the economy truly recovered?

Will unemployment ever improve?

What about the housing market?

And perhaps most important of all: how will we be able to protect ourselves from the near-inevitability of inflation?

It's going to be much more challenging to find market-beating profits in 2012...

We've already seen huge gains this year - and I believe the investment climate will be somewhat more difficult moving forward.

But with Top Stock Insights I'll keep you abreast of what's coming up next, and I'll keep you invested in companies that are prepared for any short-term downturn

And you can get started now with How to Get Rich from Forever Gold.

As the Chief Investment Strategist for the top-rated advisory service Top Stock Insights, my subscribers are used to the reliable profits that result from my insightful analysis.

And 2011's was great to subscribers too:
We closed out a 33% gain in Coinstar (Nasdaq: CSTR)

And a 27% gain on Toyota Motors (NYSE: TM).

An 82% gain in silver company Hecla Mining (NYSE: HL)

27% from Gold Resources (AMEX: GORO)

42% from Sauer Danfoss (NYSE: SHS)

15% from Ares Capital (NYSE: ARCC)

14% from Waste Management (NYSE: WM)

15% from Dover (NYSE: DOV)

And many more...

We're already getting positioned for market-beating profits from the world's top-performing companies.

And right now I'm excited to tell you all about my favorite gold investment of the moment.

I'll give you the How to Get Rich From Forever Gold report to keep as soon as you sign up for a "test drive" of Top Stock Insights -- and I encourage you to sign up today to get the most from this report.

How to Get Rich From Forever Gold
for just $29.95

Normally, investors pay as much $499 for top-quality investment research like my Special Report, How to Get Rich From Forever Gold.

Of course, you'll pay nothing near that when you order your copy of the report and start your FREE three-month bonus subscription to Top Stock Insights. For just $29.95. This is the very best offer I can put on the table.

And if you really want to make money in the stock market, then you know this is a bargain for top quality research.

A subscription to Top Stock Insights also gives you immediate access to all of our high quality independent investment research.
13 complete weekly issues of my Top Stock Insights newsletter, featuring at least two top mid and large cap recommendations each month.

Full, unfettered access to the Top Stock Insights website, including the stock portfolio and issue archive.

Free research from our library of Special Reports.

Timely action alert buy and sell notices delivered right to your inbox.

LIVE CUSTOMER SERVICE during regular business hours with our customer service expert named Aimee, who is ready to help you with all your subscription needs.

100% Full Money Back Satisfaction Guarantee: if at any point during your 3 month trial you find that Top Stock Insights isn't for you, you can simply call my customer service manager to cancel: no hassles, no run-around, no hard feelings -- just a prompt and courteous 100% refund.

The $29.95 basically covers my research and the bills. That's it. Everything else - the bonus Special Reports and 13 issues of Top Stock Insights - are gifts for you.

You'll get our complete portfolio of stock recommendations as well as email notification of any portfolio updates.

It will be the best $29.95 you ever spent. I guarantee it...

Here's the link so you can get your copy of How to Get Rich From Forever Gold and start profiting with Top Stock Insights today!



Good investing,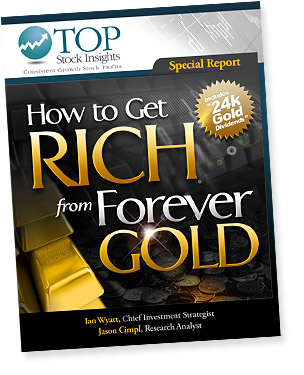 Ian Wyatt
Chief Investment Strategist
Top Stock Insights

P.S. I'm making this report How to Get Rich From Forever Gold available to you now - for free, for a limited time. But soon after I make this report available, it's highly likely that the company will run far above my target buy price. That's because it's a great opportunity - and I'm sure that my subscribers will buy it in droves.

Please - if you're interested, I really would prefer that you have a fighting chance to buy this company - so don't wait. As I said, if you decide this report is not right for you, you can immediately cancel and get all of your money back, with the report yours to keep as a thank you.

Note: your first 3 months of Top Stock Insights is free with your purchase of the special report. After three months your subscription will automatically renew for a full year (52 weekly issues) of Top Stock Insights for only $199. You may cancel at any time by calling or emailing our customer service department.



* Investing in stocks carries certain risks for loss just as much as it presents opportunities for rewards. While each of the stocks in this new investment report has been thoroughly researched by professional analysts, investors are advised to perform their own research and due diligence before investing. Future returns claims made in this promotion are based on calculations and evaluations made to the best of the ability of Top Stock Insights research analysts, however they CANNOT be guaranteed and should not be considered as such.



Ian Wyatt's Top Stock Insights
c/o Wyatt Investment Research
65 Railroad Street
PO Box 790
Richmond, Vermont 05477