**Limited-time Offer**
Grab Your 3 Special Reports for

Profiting From the U.S. Energy

Revolution and Receive 50% OFF!

Fellow Investor,
Recently, Ian Wyatt and Tyler Laundon hosted a special live teleconference.
During the event, Ian and Tyler discussed 3 big profit opportunities for earning immediate gains (and income) from the greatest wealth creation event in decades: America's energy independence.
They also talked about the strategy behind Top Stock Insights…
Their popular investment service that's handed readers gains of 51% on Protolabs, 70% on Finisar, and 74% on Trulia… this year alone!
If you missed this event, don't worry.
In the brief report below, I've included the best ideas from Ian and Tyler's presentation.
So you can look over all their research today, and take advantage of the unique offer they made to attendees.
For a limited time you can access 3 special reports… filled with our complete analysis of the decades-long boom in U.S. oil and gas production… including 7 handpicked investments… and save 50% on a subscription to Top Stock Insights – so you can log in, read over these reports, and start profiting right away.
PLUS – You'll receive an exclusive BONUS Report called The U.S. Oil Stock Ready to Double – only for those who respond by TODAY.
Keep in mind, this opportunity will be removed after the market closes Monday, October 7th.
But even if you don't accept this offer today, I think you'll find what we have to share interesting and very useful.
Because as you're about to discover, there's something incredible happening in America's heartland…
Something we've been studying for years here at Wyatt Investment Research…
And it's about to launch a new era of prosperity for America – making the select few investors who get in now very rich.
But not everyone is as excited as we are…
In fact, it has one group of people downright worried…
Let me explain:
What's Making the Saudis
Sweat Through Their Robes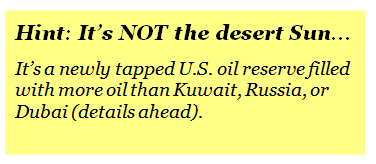 Earlier this summer, a nervous Saudi Prince issued a dire warning to his fellow OPEC members…
He said demand for oil from OPEC nations is "in continuous decline."
And that unless the cartel took "swift measures" they would see their treasuries emptied and their citizens in open revolt.
The Saudis are the most vocal… the most fearful… because for years they've been the world's biggest oil exporter.
And they have the most to lose. Over 90% of their national budget depends on oil.

"The kingdom's oil-dependent economy
is increasingly vulnerable."
– THE WALL STREET JOURNAL
Oil pays for housing, medicine, roads, schools, everything… they might as well bottle it and use it as their official currency.
So, when a Saudi royal… a member of a family that has gold Ferraris and billions in the bank… is worried about losing control of his country and paying the bills, you know it's bad.
What's the cause of all this anxiety?
The simple fact that we don't need their oil any more.
We're buying less and less Saudi oil every month… and it's costing the Arab nation billions in lost revenues. Have a look:
America is buying half as much oil from
the Saudis as we did 10 years ago.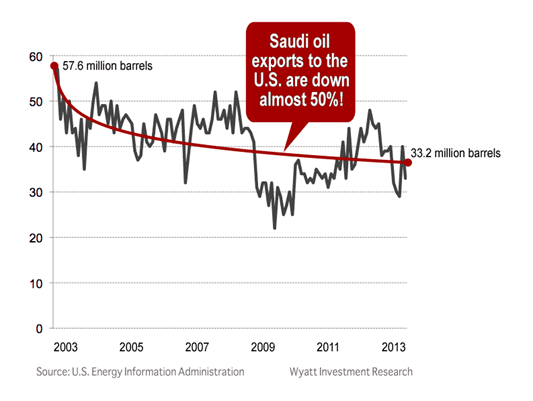 And other OPEC member states are feeling the pinch too – because we aren't importing their oil either!
Algeria's oil production is down 6%... Iran is down 8%... and Nigeria is producing less than it has in 20 years while Libya is pumping less oil today than it did when the country was racked with war in 2011.
And this is just the beginning…
As Stephen Lewis, Chief Economist at Monument Securities puts it, "the cartel's power is waning."

"OPEC Losing Control of Oil Market"
– CNBC
Soon, none of our hard-earned money will end up in the fists of the dictators and thugs that make up OPEC.
Already, the U.S. met 83% of its own energy needs in the first six months of 2013, reports the Energy Department.
And as Seth Kleinman, head of energy strategy at Citigroup reports, "by the end of the decade the U.S. won't need to import much crude at all."
The reason, of course, is that breakthroughs in drilling technology have opened up vast oil reserves in America's heartland that were previously thought to be unreachable.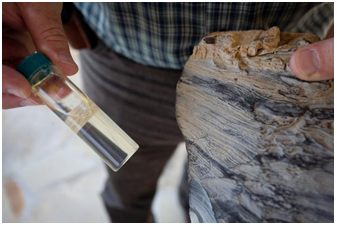 I remember the day I first learned about these reserves… when I was a boy growing up in an Oklahoma oil town.
My father, a geologist, was in exploration back then.
He searched the globe looking for new deposits for Conoco.
And though he found oil in Norway, Dubai, and Indonesia…
He told me the biggest oil reserves in the world are sitting in our own backyard… 2.6 trillion barrels of crude… that's trillion with a "t"… just waiting to be pulled from the ground.
(Saudi Arabia has a total of 266 billion barrels of oil.)
That's when he handed me a chunk of shale and explained about the oil trapped inside it.
My name, by the way, is Ryan McLimans. I'm a Senior Investment Writer here at Wyatt Research.
And, back then, I was only 6 years old… and naturally I couldn't grasp the opportunity.
Nevertheless, my old man explained that some day we would tap into these reserves…
And that the glory days would return to the prairie and the gas in our cars wouldn't come from the Middle East.

"US shale output erodes OPEC's oil market share"
– Financial Times
Now, decades later, my father's prediction is quickly becoming a reality.
Of the trillions of shale oil in America right now… over 43 billion barrels is instantly commercially recoverable, according to IHS Global Insight.
That means, if we don't drill another well – which we would never do – we'd have enough oil to power America for 13 years (under current consumption).
While this is great news for our country… it's even better news for our economy and investors.
Already, we're producing more oil than at any time since the 1980s…
American Oil Production Jumps
20% in 12 Months!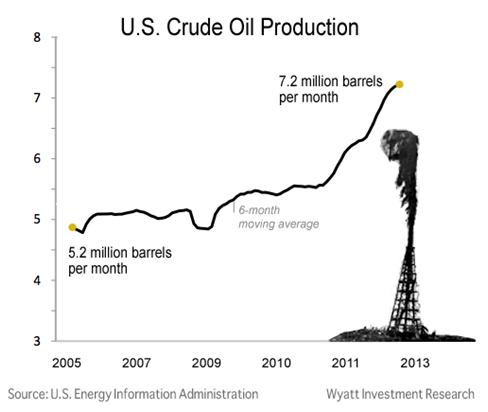 And domestic production is expected to increase exponentially in the coming years.
In fact, U.S. oil output is surging so fast… we could soon overtake Saudi Arabia as the world's biggest producer!
(Confirming the fears of the Saudi Prince I mentioned earlier.)
And it's happening a lot sooner than you might think…

"U.S. Oil Output to Overtake Saudi Arabia's by 2020"
– Bloomberg BusinessWeek
Imagine, in just 6 years, we could be making more money from oil than the Saudis.
Now, I realize you've likely heard this story before… back in 2008 many investment firms were touting the tremendous potential of places like the Bakken and the next U.S. Oil Boom.
And, you know, they were right – they were just too early…
You see, it takes about 5 years for a new oil well to start producing and turn a profit.
And that's exactly where we are now.
All those wildcatters and prospectors who were getting by on the skin of their teeth while drilling in North Dakota, Colorado and Texas… are billion-dollar operations today.
Now, they're in full-scale production… reaping massive profits and rewarding shareholders.
We're past the speculation stage…
We now know where the most lucrative oil fields in America are, how much oil they have, and how much money we can make investing in the companies that own them.
And what we've found is that this is an opportunity that could pay out not just months from now… but for years (decades even).
It all has to do with what, my colleague Tyler Laundon calls "the richest oil in America."
Tyler is the analyst behind some of our firm's greatest investment recommendations including 495% on Africa Oil, 484% on Allot Communications and 190% on Endeavor Silver, just to name a few…
It's a massive reserve… with more oil than Kuwait, Russia, or Dubai.
Yet, it appears in no official documentation…
In fact, the Energy Information Association won't publish how much oil is being produced out of this reserve until 2014.
That's how new this opportunity is… production has just started.
And the best part is, not only is it the largest oil reserve in the country…
The few companies producing oil here are also sitting on giant, untapped deposits in this region – laying claim to future wells and discoveries (billions in future revenue).
Here's everything you need to know:
The Next Bakken:
The Hidden Elephant Oil Field
Yielding Immediate Returns
It's 4 TIMES the size of the Bakken in North Dakota…
It has DOUBLE the oil of Eagle Ford, TX…
And according to a recent government study, it contains "recoverable oil and natural gas resources exceeding what has been produced over the last 90 years."
Now, you might be thinking…
An oil field this big has likely been picked over by Big Oil…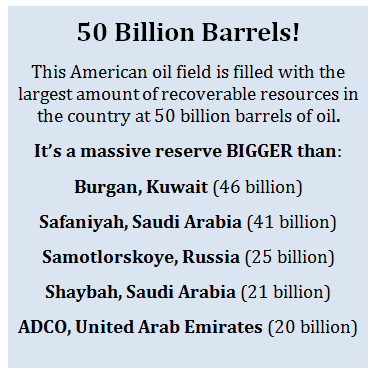 Surely, ExxonMobil or BP has rigs here and if I own shares of these companies, I'm guaranteed a piece of the profits.
Well, truth be told, there's no Big Oil presence here… and you're likely missing out on this opportunity.
You see, this 250-by-300 mile oil field went untapped for decades because no one knew for sure how much oil was hidden there (making an investment a risky proposition).
But that was before 3-D seismic imaging and horizontal drilling…
When these technological breakthroughs revealed the true scope of this reserve… it's the second largest oil field in the world!… it touched off a land grab among a few nimble companies.
Now, when I say "nimble" I'm not talking about micro-caps… far from it.
For example, the largest landholder and oil producer in the region… one we just recommended to our readers… is a $26 billion dollar company.
It used its cash hoard to snap up over 600,000 acres and develop over 7,000 wells here.
And backing up its deep pockets, is a technological advantage that allows this company to produce a barrel of oil for only $14.50!
With oil over $100 a barrel, that's an incredibly high profit margin for what was previously thought to be hard-to-reach and expensive oil.
And it's all thanks to a new type of oil rig that allows this company to produce 30 times the oil of a standard rig.
Now, I can't get into all the details here. There's simply too much information to share.
And before you decide to invest, I want to make sure you have our full analysis of this amazing company, all its technology, and all the details of this massive oil field.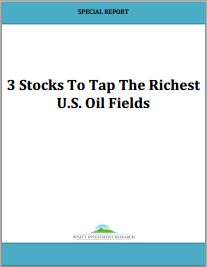 That's why I want to send you the brand new report Tyler just prepared on this opportunity.
It's called, 3 Stocks To Tap The Richest U.S. Oil Fields.
Inside, you'll see how this cash-cranking company… PLUS two more quick-moving operations… have locked-up decades of profits.
And you'll also be able to look over all their land holdings in this region, where their most productive wells are located, and where we believe the next big gushers will come from.
And when you accept this special no-risk invitation to join the Top Stock Insights today… and save 50%!... you'll be able to access this in-depth report – INSTANTLY – for free!
But before I send it to you… there's another opportunity I have to tell you about.
Something that could be even bigger than America's resurgent oil industry.
You see, we may have a lot of oil…
But we also have a domestic energy source that's much more abundant, and cheaper, than oil.
It's the envy of the world… and it all has to do with what I call:

"The American Prius"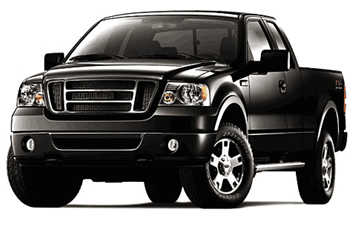 It can travel 750 miles on one tank of gas.
It's made in Louisville, KY.
And it emits 45% LESS smog than the Japanese-made Prius.
Except you don't plug it in and it's not a hybrid. (Sorry, hippies!)
It's the future of American motoring.
You see, this technology makes the pick-up pictured above more economical… more efficient… than a hybrid like the Prius!
I realize that sounds hard to believe.
But this is no Spruce Goose.
Over 15,000 of these vehicles were built and sold this year alone. (And a total of over 135,000 are on the road right now).
Chances are, you've seen them on the streets of your hometown without even knowing it.
In fact, for years I used to ride in one on my morning commute.
And unlike plug-in electric cars or hybrids… these cars and trucks are cheap to own and operate.
It costs about the price of a movie ticket to fill them up.

"I was able to fill the car's tank for $11.62, the gasoline-cost equivalent of $1.92 a gallon." – Jerry Garrett, New York Times
Now, if you haven't already guessed by now… I'm talking about cars and trucks that run on clean, efficient natural gas.
The Energy Information Administration estimates that America holds approximately 2,200 trillion cubic feet of natural gas.
That's equivalent to the size of Saudi Arabia's proven oil reserves… meaning we have enough natural gas for 100 years of U.S. demand.
(Another reason for that Saudi Prince to cry himself to sleep at night.)
And since natural gas is so abundant… and we control our own supply… prices are projected to remain cheap compared to oil for years to come.
Just look at the growing spread between oil and gas prices:
Oil is 4 Times More Expensive
than Natural Gas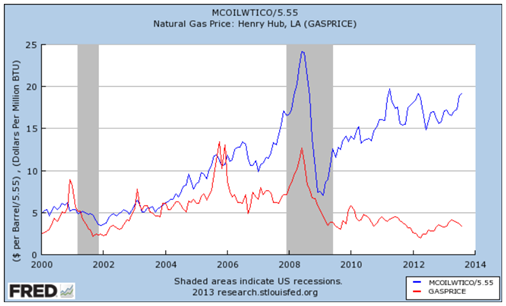 So, while we have more than enough cheap fuel… this is an opportunity we'll talk about more just ahead…
ONLY ONE COMPANY has the breakthrough technology for building high-powered cars and trucks powered by natural gas.
It's locked up the blueprints with 326 patents… and is reaping all the profits!
"Natural Gas will overtake oil as the most used fuel."
– International Energy Agency
But it's the type of vehicle that's key here…
You see, this company isn't competing against Tesla or Toyota by making sedans…
They're building powerful engines for vehicles that make up the backbone of the U.S. Economy.
I'm talking about tractor-trailers, construction vehicles, big pick-ups, garbage trucks, buses, etc.
Because it's these engines that burn the most fuel… and get the most cost savings when switching from burning expensive gasoline and diesel to cheap natural gas.
That's why companies everywhere are choosing to buy natural gas powered vehicles over conventional ones.
A quick example: The waste management industry.
Garbage trucks run all day hauling heavy loads… when the price of diesel goes up, these companies watch their profits dry up.
That's why 60% of garbage trucks sold today run on cheap natural gas… just 5 years ago only 3% of garbage trucks ran on natural gas.
And this is just one industry. Whole fleets of trucks are running on clean, cheap natural gas.
And they have a network of fueling stations stretching coast to coast to fill up their tanks for as low as 87 cents a gallon!
Note: Every green dot below represents a completed natural gas station… this already exists!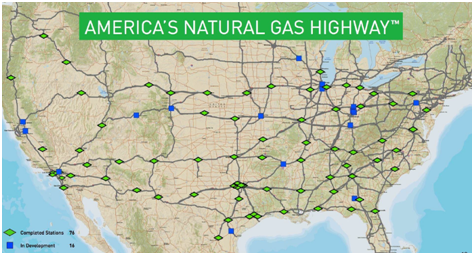 And it's all thanks to the breakthrough technology of one company.
Now, like the energy companies I mentioned earlier, shares of this high-tech company building natural gas powered trucks won't stay cheap for long.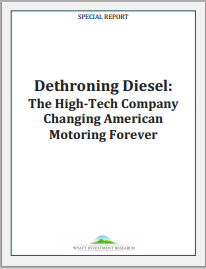 And to make sure you get every opportunity to invest, we've just posted a full research report on this company on the subscribers-only Top Stock Insights website.
It's called, Dethroning Diesel: The High-Tech Company Changing American Motoring Forever.
And since it's on our secure website, you can read it over ASAP! – find out everything you need to know… and snap up shares before this stock moves any higher.
Should you decide to invest in this company, there's something you should know:

Every Employee at
Wyatt Investment Research Owns Shares of This
Natural Gas Stock
I'm telling you this not just to be honest…
Here at Wyatt, we have a disclosure and trading policy that makes sure our readers always enter and exit a stock before we do. So, you know exactly where our interests are… and can earn more money than we do (a courtesy rarely extended by the majority of charlatans in this industry).
But also to let you know that every employee at our company is involved in our corporate investment club… a fund of pooled money that we all contribute to.
And our staff believed so strongly in this opportunity… everyone from secretary to CEO recently agreed to invest in this stock detailed in the special report, Dethroning Diesel: The High-Tech Company Changing American Motoring Forever…
So, should you decide to invest, you can do so knowing every employee here as skin in the game as well… we are all in it together.
And here's another beneficial policy that should put you at ease… and guarantee all these special reports are FREE if you choose…
Our special 30-DAY money back guarantee!
If at any point during the next month you find that Top Stock Insights isn't right for you, you can simply call our customer service manager to cancel: no hassles, no hard feelings – just a prompt and courteous 100% refund.
And ALL your special reports, including Dethroning Diesel: The High-Tech Company Changing American Motoring Forever, are yours to keep with my compliments.
Now, I don't know about you, but this is exactly the kind of company I prefer to invest in…
Companies with real products, hard assets and thousands of employees – that contribute billions to the American economy.
I'd much rather put my money behind these companies than a flakey social media company that makes a few pennies every time someone posts a photo of their lunch.
Because I know that I'll see an immediate and lasting return on my money.
Which brings me to an important point.
The opportunities I talked about earlier could take a few months to pay off…
But there's a way you can profit immediately… and collect big cash payouts… from ever-increasing U.S. energy production right now:

How to Earn a Steady 7% Yield
in the Pipeline Business
Keystone or no Keystone, there's three U.S. companies with thousands of miles of pipeline already laid down across the country.
And they're reaping massive profits from surging domestic energy production.
And they make all this money no matter what happens to the price of oil and natural gas…
Whether it's exported overseas or moved around the country… they haul in big fees transporting and storing oil and gas.
And thanks to a unique tax law passed in the 1980s, these pipeline companies don't pay any income tax… in return they must distribute 90% of all profits to shareholders in the form of big cash distributions.
And you can start collecting this cash immediately! The next distributions are scheduled to be paid out:

Tuesday, 10/29/2013


Thursday, 10/31/2013


Friday, 11/1/2013

That's 3 cash payouts you can earn in the next 30 days!
If you invested $5,000 in each of these U.S. pipeline companies, you could collect a cash payout of $246.33 by November... and every 3 months after that!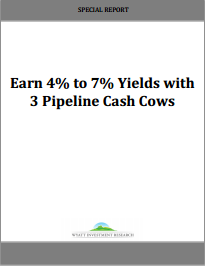 That's why I'd like to send you Tyler's latest research report on these three cash-cranking operations…
It's called Earn 4% to 7% Yields with 3 Pipeline Cash Cows.
Inside, you'll get our full analysis on these companies and be able to decide if these investments are right for you – BEFORE the next ex-dividend-date 30 days from now.
And remember, you can access this in-depth special report – INSTANTLY.
All you have to do to get it – is accept this no-risk invitation to try Top Stock Insights!
So let's quickly review everything you'll receive today when you subscribe to Top Stock Insights.
You'll be able to log in to the subscribers-only website… look over the Top Stock Insights portfolio… and instantly access all 3 of your special reports that reveal the full details of the 7 handpicked investments for immediately profiting from America's Energy Revolution.
Each report is loaded with information and includes the names, ticker symbols, and a full analysis of each investment:
Special Report #1:
3 Stocks To Tap The Richest U.S. Oil Fields
Inside, you'll discover three high-margin companies harvesting oil from the largest reserves in America (and the world!). These giant oil fields are bigger than reserves in Saudi Arabia, Kuwait, and Russia! You'll also be able to look over all their holdings, where their most productive wells are located, and where we believe the next big gushers will come from.
Special Report #2:
Dethroning Diesel: The High-Tech Company Changing American Motoring Forever
You'll discover everything you need to know about the high-tech company building what we call the "American Prius" – a super powerful truck that runs on cheap U.S. natural gas that costs only 87 cents a gallon to fill up.
Special Report #3:
Earn 4% to 7% Yields with 3 Pipeline Cash Cows
This report reveals all the details of three cash-cranking operations with near monopolies on the oil and natural gas transportation business. Inside, you'll see how you can collect 3 big cash payouts in the next 30 days!
Then, every week, you'll receive the latest Top Stock Insights issue via email.
These issues give you a full update on the portfolio and highlight new investment opportunities – handpicked and thoroughly researched – that are poised to beat the market and hand you a gain of 20% to 40% in as fast as 12 months.
You will also receive strict stop losses to limit any downside risk.
Every recommendation comes with a clear exit strategy... complete with price targets...
So you always know EXACTLY when to sell... and when to take profits!
That's why Top Stock Insights is unlike most other investment services... because we don't believe in "set it and forget it."
We fanatically watch every stock we recommend…
The result is: You're getting total investment guidance. And for the select few subscribers who've already joined us... it's paying off!
Have a look at these recent gains booked in the Top Stock Insights portfolio: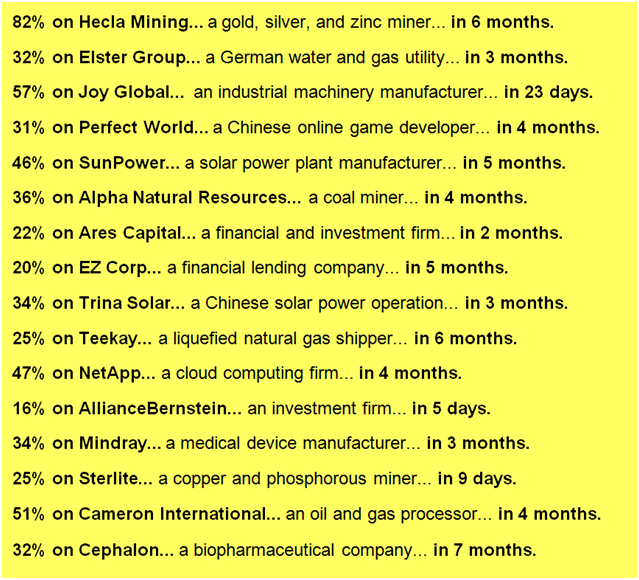 And in addition to getting the chance to earn gains like these… you'll get urgent alerts, so you always have our latest research and know exactly where we stand.
Plus, you'll also receive:

52 weekly issues of Top Stock Insights filled with investment ideas and updates on portfolio holdings. You can expect to receive brand new recommendations each month – handpicked to help you beat the market – including the full rationale behind every investment, including any potential risks, price targets, and stop losses so you'll have everything you need to make your own sound investment decisions.


Email alerts sent to your inbox the minute there's breaking news concerning a Top Stock Insights portfolio holding – so you'll always know when I'm taking profits.


Full access to the Top Stock Insights subscribers-only website, where you can pore over every transaction made in the portfolio and read our entire issue archive and special reports library.


LIVE customer service during regular business hours with our customer service expert who is ready to help you with all your subscription needs.


Fully transparent portfolio where you'll be able to see every transaction, cost basis, and trade information. There's no smoke and mirrors here – all numbers are front and center. This is a great tool for monitoring your own performance right alongside us.


100% Full Money Back Satisfaction Guarantee – if at any point during the next 30 days you aren't completely satisfied, you can call and receive a full refund... no questions asked.

PLUS – when you respond right now, you'll receive this BONUS report, FREE!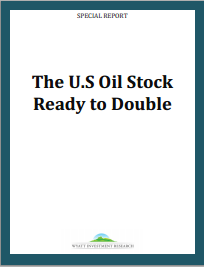 In addition to all the benefits of Top Stock Insights outlined above – including the full details of the 7 investments you must own for profiting from U.S. Energy – you'll also receive this bonus report:
The U.S. Oil Stock Ready to Double
This exclusive report reveals all the details of a little-known oil driller tapping into the second largest oil reserve in the world (right here in America). This company has 6 specific catalysts to get its shares moving right away. In fact, it could DOUBLE in as fast as 12 months!
Add it up and that's a full year of investment ideas and ongoing analysis…
PLUS – 3 special reports detailing 8 handpicked investments ready to hand you immediate gains and income from America's surging oil and gas industry.
And when you respond right now through this exclusive invitation only, you'll receive a big discount…
If you act right now, you can join the Top Stock Insights for only $199 a year – a full 50% OFF our regular rate of $399.
That's 52 information-packed issues... buy and sell alerts... plus your BONUS report designed to help you start profiting right away – all for about the cost of one sausage and egg breakfast sandwich per week.
And remember, this offer is completely risk-free and comes with…
Our FULL MONEY-BACK GUARANTEE that makes it possible for you to join Top Stock Insights today and get a full refund if you decide it's not for you.
If at any point during the next month you decide that the Top Stock Insights isn't for you, you can simply call our customer service manager to cancel and receive a prompt and courteous refund.
And you'll still find out all the details of the 7 investments (plus your fast-action bonus pick!) before the October 7th deadline… including their names and ticker symbols… and all the special reports are yours to keep with my compliments.
Of course, this kind of guarantee makes it possible to get everything we have to offer and pay nothing...
And that's fine by us. Because that's just how confident we are in what we have to offer you!
I think once you see the incredible returns our readers are positioned to earn in the coming months… and why this is greatest investment opportunity of the decade… you'll decide to join us for the long haul. (And if not, no hard feelings.)
I urge you to click the link below... accept this special invitation to the Top Stock Insights and read over all your special reports... because there may never be a better time to get in these energy companies reaping massive profits from America's surging oil and gas production than right now!
(This offer expires before the closing bell:
MONDAY, October 7th at 3:59pm ET)
Sincerely,

Ryan McLimans
Senior Investment Writer
Wyatt Investment Research
P.S. Remember: You're getting 7 handpicked investments for cashing in on America's Energy Revolution. If you wait, I can't guarantee you'll be able to get in on these incredible profit opportunities. So, please – if you're interested, I really would prefer that you have a chance to invest in these companies before their shares move any higher. As I said, if you decide the Top Stock Insights is not right for you, you can cancel any time in your first 30 days… get all of your money back… and all 3 special reports and BONUS report are yours to keep!
* Investing in stocks carries certain risks for loss just as much as it presents opportunities for rewards. While each of the stocks in this new investment report has been thoroughly researched by professional analysts, investors are advised to perform their own research and due diligence before investing. Future returns claims made in this promotion are based on calculations and evaluations made to the best of the ability of Top Stock Insights research analysts, however they CANNOT be guaranteed and should not be considered as such.