The American Prius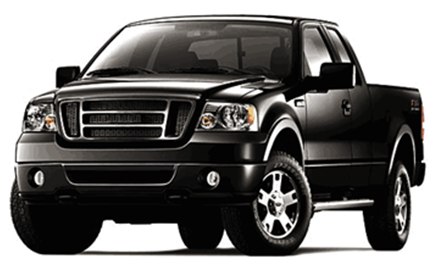 It can travel 750 miles on one tank of gas.
It's made in Louisville, KY.
And it emits 45% LESS smog than the Japanese-made Prius.
Except you don't plug it in and it's NOT a hybrid. (Sorry, hippies!)
This powerful beast is the future of American motoring... and it's about make the investors who get in now very rich.
In this report: Discover the one manufacturer building this incredible truck... and why every one of our employees here at Wyatt Research recently bought shares of this company.
Fellow Investor,
On November 29th, 1988 something incredible happened…
In a small basement lab, a scientist turned the key on a prototype of a new high-tech engine.
An engine that didn't run on gasoline or diesel -- but was just as powerful.
As it roared to life, the scientist knew nothing would ever be same (he would also soon become very wealthy).
You see, the technology behind this engine makes the pick-up pictured above more economical… more efficient… than a hybrid like the Prius!
I realize that sounds hard to believe.
But this is no Spruce Goose.
Over 15,000 of these vehicles were built and sold this past year alone. (And a total of over 135,000 are on the road right now).
Chances are, you've seen them on the streets of your hometown without even knowing it.
In fact, for years I used to ride in one on my morning commute.
And unlike plug-in electric cars or hybrids… these cars and trucks are cheap to own and operate.
It costs about the price of a movie ticket to fill them up.

"I was able to fill the car's tank for $11.62, the gasoline-cost equivalent of $1.92 a gallon."
– Jerry Garrett, New York Times
Now, I won't beat around the bush here…
If you haven't guessed already, I'm talking about cars and trucks that run on clean, efficient natural gas.
The Energy Information Administration estimates America holds approximately 2,200 trillion cubic feet of natural gas.
That's equivalent to the size of Saudi Arabia's proven oil reserves… meaning we have enough natural gas for 100 years of U.S. demand.
And since natural gas is so abundant… and we control our own supply… prices are projected to remain cheap compared to oil for years to come.
Just look at the growing spread between oil and gas prices:
Oil is 4 Times More Expensive
than Natural Gas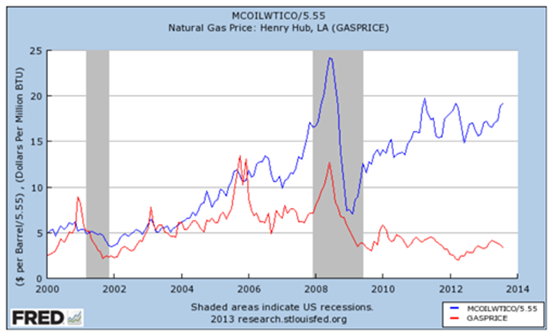 So, while we have more than enough cheap fuel…
And the means to get at it – currently 210 natural gas pipelines stretch 305,000 miles across America...
(And more are being built every day... even here in tree hugger Vermont, a 43-mile natural gas pipeline was just approved.)
ONLY ONE COMPANY has the breakthrough technology for building high-powered cars and trucks powered by natural gas.
It's locked up the blueprints with 326 patents… and is reaping all the profits!
Now it's the type of vehicle that's key here…
You see, this company isn't competing against Tesla or Toyota by making sedans…
They're building powerful engines for vehicles that make up the backbone of the U.S. Economy.
I'm talking about heavy duty pick-ups, tractor-trailers, construction vehicles, mining trucks, garbage trucks, city buses... the list goes on and on.
Because it's these engines that burn the most fuel…
and get the most cost savings when switching from burning expensive gasoline and diesel to cheap natural gas.
"Natural Gas will overtake oil as the most used fuel."
– International Energy Agency
That's why companies everywhere are choosing to buy natural gas powered vehicles over conventional ones.
A quick example: The waste management industry.
Garbage trucks run all day hauling heavy loads… when the price of diesel goes up, these companies watch their profits dry up.
That's why 60% of garbage trucks sold today run on cheap natural gas… just 5 years ago only 3% of garbage trucks ran on natural gas.
And this is just one industry. Whole fleets of trucks are running on clean, cheap natural gas.
And they have a network of fueling stations stretching coast to coast to fill up their tanks for as low as 87 cents a gallon!
Note: Every green dot below represents a completed natural gas station… this already exists!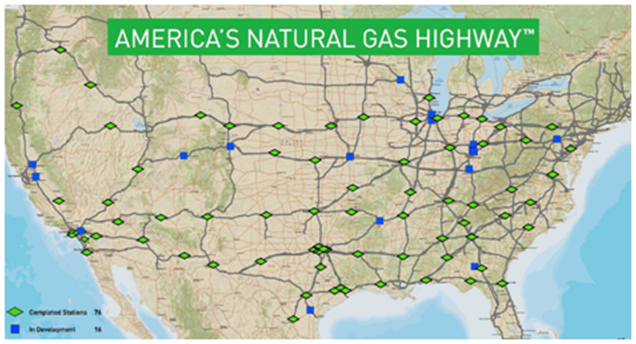 And it's all thanks to the breakthrough technology of one company.
Now, shares of this manufacturer building natural gas powered trucks won't stay cheap for long.
In fact, it's launching several new products in the next 6 to 12 months... including engines for Volvo, Ford, Mack, Peterbilt, and Kenworth, just to name a few...
And its on pace to double its revenue by the end of this year (over the span of 2010 to 2014).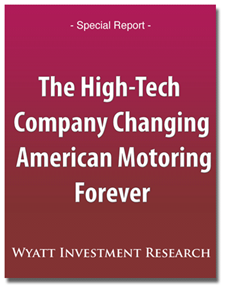 To make sure you get every opportunity to invest in this company, we've just posted a full 13-page research report on this company on our website.
It's called, The High-Tech Company Changing American Motoring Forever.
And since it's on our secure website, you can read it over ASAP! – find out everything you need to know -- including a full financial analysis complete with price targets... and snap up shares before this stock moves any higher!
But there's something you should know if you decide to invest in this company:

Every Employee at Wyatt Investment Research Owns Shares of This
Natural Gas Stock
I'm telling you this not just to be honest…
Here at Wyatt, we have a disclosure and trading policy that makes sure our readers always enter and exit a stock before we do. So, you know exactly where our interests are… and can earn more money than we do (a courtesy rarely extended by the majority of charlatans in this industry).
But also to let you know that every employee at our company is involved in our corporate investment club… a fund of pooled money that we all contribute to.
And our staff believed so strongly in this opportunity… everyone from secretary to CEO recently agreed to invest in this stock detailed in the special report, The High-Tech Company Changing American Motoring Forever…
So, should you decide to invest, you can do so knowing every employee here as skin in the game as well… we are all in it together.
And here's another beneficial policy that should put you at ease… and guarantees this special report is FREE if you choose…
Our 30-DAY money back guarantee!
If at any point during the next month you find that this opportunity isn't right for you, you can simply call our customer service manager and receive a full refund. No questions asked!
And your special report, The High-Tech Company Changing American Motoring Forever, is yours to keep with my compliments.
Now, I don't know about you, but this is exactly the kind of company I prefer to invest in…
Companies with real products, hard assets and thousands of employees – that contribute billions to the American economy.
I'd much rather put my money behind these companies than a flakey social media company that makes a few pennies every time someone posts a photo of their lunch.
Because I know that I'll see a real and lasting return on my money.
Now, I want to make sure you get full ongoing analysis concerning this company – now and in the critical months ahead.
So you know exactly what's happening! And when I'm taking profits or adding more shares.
That's why when you claim your special report – The High-Tech Company Changing American Motoring Forever – right now...
It comes with 12 months of email alerts and access to my exclusive investment service, Top Stock Insights.
But before I send you your special report and activate your pass to my service, please allow me a quick introduction...
My name is Ian Wyatt. I'm the Chief Investment Strategist and Founder of the highly successful firm Wyatt Investment Research.
Five years ago, I launched Top Stock Insights in the face of one of the most brutal and uncertain markets in decades...
But unlike most investors at the time... we were making money.
You see, my team and I are dedicated to investing only in stocks that have specific catalysts to get their shares moving quickly... so we can get in... enjoy months of growth... and then bank profits!
Of course, finding these timely opportunities isn't easy. We log countless hours researching... scouring the market for only the very best stocks.
But it's worth it. Because this market has proven to be increasingly difficult for buy and hold investors.
Despite the bull market, there's always a fresh crisis waiting right around the corner to sink stocks.
And in an environment like this... no gain is safe.
That's why with every stock we recommend, we always have a clear exit strategy... complete with price targets...
So you always know EXACTLY when to sell... and when to take profits!
That's why Top Stock Insights is unlike most other investment services... because we don't believe in "set it and forget it."
We fanatically watch every stock we recommend…
The result is: You're getting total investment guidance. And for the select few readers who've already joined us... it's paying off!
In fact, last year alone our stock recommendations generated some nice profits:

44% on Protolab


50% on Yandex


62% on Finisar


102% on Trulia

Now, these gains weren't earned over years... we banked them relatively quickly just last year... we don't let gains slip away.

Just have a look at how quick we take profits in the Top Stock Insights portfolio (these are all recent official recommendations):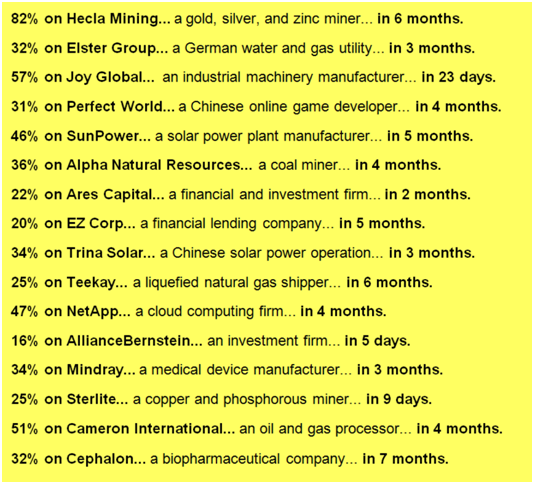 To get you on your way to earning profits like these with Top Stock Insights...
and position yourself to profit with the opportunity revealed in your special report The High-Tech Company Changing American Motoring Forever...
I've made it easier than ever for you to get started...
Right now, when you reply only through this email by Friday, April 4th, you'll get these two wealth-building resources at an incredible discount.
When you act right now, you can join the Top Stock Insights for only $49 a year – a full 84% OFF our regular price of $299.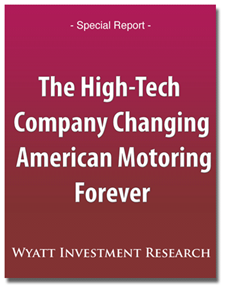 That's the name, ticker symbol, and a detailed analysis of the manufacturer that stands to profit most from the U.S. natural gas revolution…
AND 12 months of ongoing communication and investment research, including new, official stock recommendations and email alerts with Top Stock Insights... all for one VERY LOW price.
And remember, this offer is backed by our 30-DAY money-back guarantee!
If at any point during the next month you find Top Stock Insights isn't right for you, you can simply call my customer service manager to cancel for a full refund.
And your special report, The High-Tech Company Changing American Motoring Forever, is yours to keep!
Now, let's review everything you'll receive when you start today:

52 weekly issues of Top Stock Insights filled with market insight and updates on portfolio holdings. You can expect to receive two brand new handpicked recommendations each month – including the full rationale behind every recommendation, including any potential risks and price targets, so you'll have everything you need to make your own sound investment decisions.


Email alerts sent to your inbox the minute there's breaking news concerning a Top Stock Insights portfolio holding – so you'll always know when I'm taking profits.


Full access to the Top Stock Insights subscribers-only website, where you can pore over every transaction made in the portfolio and read our entire issue archive and special reports library.


LIVE customer service during regular business hours with our customer service expert who is ready to help you with all your subscription needs.


100% Full Money Back Satisfaction Guarantee – if at any point during the next 30 days you aren't completely satisfied, you can call and receive a full refund... no questions asked.
And you'll get instant access to your special report The High-Tech Company Changing American Motoring Forever.
Which reveals the full details of the unique company building what I call, the "American Prius" – powerful trucks that run on cheap natural gas with supercharged engines that are more efficient than any hybrid or electric car.
I urge you to click the "START NOW" link below... claim this incredible offer and your special report... because this special discount reserved only for our best customers, promptly expires Friday, April 4th.
**After Friday, April 4th at 3:59pm ET this discount
will no longer be available.**
Good Investing,

Ian Wyatt
Chief Investment Strategist
Top Stock Insights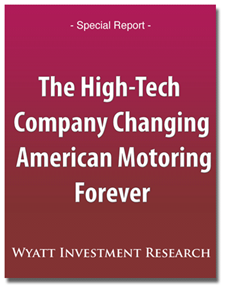 P.S. Interested in even greater savings on Top Stock Insights? You can lock in this special 84% discount for 2 years! You'll pay just $98 today and you'll receive all the benefits of the Top Stock Insights including 24 months of trade alerts, updates, and special reports. And of course, you'll receive instant access to The High-Tech Company Changing American Motoring Forever. If this sounds good to you, just click the link below for all the details. But hurry this discount, expires Friday, April 4th!
Click here to get your report and
save 84%!
Note: After your first 12 months of Top Stock Insights, your subscription will automatically renew at the same 84% discount price. Same for the two-year option. That's right, we'll never raise rates on you – ever. This special renewal price is only available during our this limited-time sale. You may cancel at any time by calling our customer service department.
* Investing in stocks carries certain risks for loss just as much as it presents opportunities for rewards. While each of the stocks in this new investment report has been thoroughly researched by professional analysts, investors are advised to perform their own research and due diligence before investing. Future returns claims made in this promotion are based on calculations and evaluations made to the best of the ability of Top Stock Insights research analysts, however they CANNOT be guaranteed and should not be considered as such.