YES! Please give me instant access to Top Stock Insights!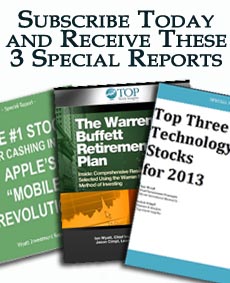 When I start right now, I'll get:

13 weekly issues of Top Stock Insights filled with market insight and updates on portfolio holdings including two brand new handpicked recommendations each month.
Email alerts rushed to my inbox the minute there's breaking news concerning a Top Stock Insights portfolio holding.

Full access to the Top Stock Insights subscribers-only website, where I can view the portfolio and read the entire issue archive and special reports library.
LIVE customer service with our customer service expert, who can help me with all my subscription needs.
100% Full Money Back Satisfaction Guarantee -- if at any point during the next 3
months I'm not completely satisfied, I can receive a full refund… and keep my special report… no questions asked.
PLUS! -- I'll receive all of these exclusive BONUS REPORTS:
Bonus Report #1: The #1 Stockfor Cashing in on Apple's "Mobile Revolution:

Bonus Report #2: Top Three Technology Stocks for 2013
Bonus Report #3: The Warren Buffett Retirement Plan